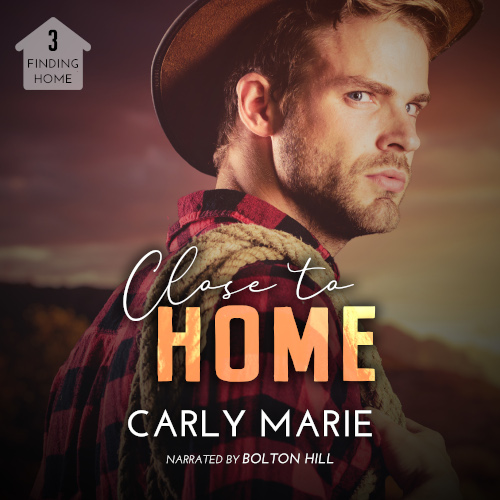 Find Close to Home on Audible, Amazon, and iTunes
A new flame, an old love, and a choice that will change all their lives
Jasper Scott is a single workaholic. He split with his girlfriend two years ago and hasn't felt drawn to anyone else since… except the sexy Navy SEAL he met at his brother's house two years ago. But that man lives halfway across the country and after so long, Jasper's convinced his mind has embellished Greg's sexy gray eyes, rippling muscles, and gorgeous salt and pepper hair.
After his husband died, Greg Joseph devoted his life to raising their two kids and his work as a Navy SEAL. Now, his kids are grown and in college, he's retired, and he's facing a house that's too big and too empty for one person. After dropping his son off at college, Greg accepts an invitation for drinks with a friend and runs into the man he hasn't been able to get out of his head—Jasper Scott.
Harrison West's life is falling apart at the seams. After walking in on his partner of ten years in bed with another man, he flees Tennessee and heads home to Oklahoma to figure out what to do next. When he's dragged out of his house for a night at a bar, the last thing he expects to find is his long-time crush, Jasper Scott, kissing another man. He's also not prepared for how being around Jasper again awakens feelings Harrison thought he had put behind him a decade ago.
For Jasper, deciding to take a chance on a relationship with Greg was confusing enough, but what happens when Jasper and Greg both realize they have feelings for Harrison? Is Jasper ready to accept both men into his life and his bed? Are Jasper and Greg the two men who could mend Harrison's broken heart?
Narrated by Bolton Hill
Start listening now!